Du 8 au 12 avril 2014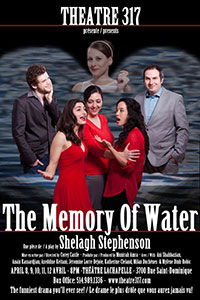 The Memory of Water
By Shelagh Stephenson
Directed by Corey Castle
Avec Katherine Cleland, Mylène Dinh-Robic, Milan Duchêne, Anais Kassardjian, Azeddine Kettani, Jéromine Lorre-Déjoie and Ani Shahbazian. 
In The Memory of Water, three sisters, each haunted by their own demons, gather in a highly charged atmosphere on the eve of their mother's funeral. With a storm raging outside, they laugh, cry, rage and bicker as the conflicts of the past and their hold on the present are mercilessly exposed.
Complicating their interactions is the fragile nature of memory; no two sisters remember their childhood experiences in the same way. Yet, they are sisters and must find a way to come together. Unable to connect with each other, they find dangerous, desperate, poignant and wildly funny ways to break through.
This searing comedy exposes the patterns and strains of family life in a way that will be familiar to all.  Winner of the British Laurence Olivier Award in 2000 for Best Comedy, The Memory of Water promises to be one of those great elucidating nights at the theatre, holding a mirror up to anyone with a sibling.
---
Lighting design Marie-Reine Corvellec
Set design by Olivier Donohue.
Tickets: 25$ regular, 20$ students
A Theatre 317 Production
---
La Chapelle
3700, rue Saint-Dominique
Billetterie : 514-989-1336
______________________________________
Critique
Critique
à venir
..