Buried Child
Par Sam Shepard
Mise en scène par Peter Hinton

Set on a rundown farm in the Midwest, Buried Child revolves around the unannounced homecoming of a long lost grandson. Vincent brings his girlfriend home to meet his folks – the only problem is the Norman Rockwell exterior of his grandparents' farmhouse belies the disintegration of the family within and the terrible secret they're hiding. Considered to be among America's finest living playwrights, Buried Child is the play that launched Shepard's fame and the tale, a funny yet scathing commentary on the dysfunctional American family, remains powerful to this day.
A co-production with Canada's National Arts Centre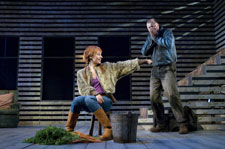 Crédit photo : Randy Cole
..