Du 20 au 26 octobre 2011 - Théâtre Rialto
Du 28 au 30 octobre 2011 - Victoria Hall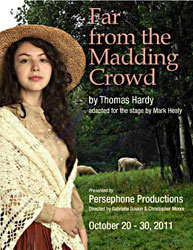 Far from the Madding Crowd
Adapted from Thomas Hardy's novel by Mark Healey
Directed by Gabrielle Soskin& Christopher Moore
Starring Lea Berry, Clive Brewer, Zachary Creatchman, Ian JD Geldhart, Julianna Kun, Lia Ludbrook, Lily Maclean, Christopher Moore, Pamela Perrotti& Jeremy Segal
A feisty young woman, Bathesheba Everdene with a mind of her own, inherits her uncle's farm and decides to run it herself, much to the concern of her neighbours and employees. Determined to make her own way in a man's world, this free-spirited girl finds herself pursued by three male suitors. But does she really need a man? Set in 1874, in the heart of rural England, the story has a timeless appeal, with its universal themes of love and betrayal, jealousy and deceit. Mark Healy's fast-paced dramatisation has earned praise from critics for its skilful rendering of one of Hardy's most famous and best loved novels .
Bathesheba Everdene est une jeune femme fringante libre d'esprit, qui hérite d'une ferme et décide de l'exploiter par elle-même au dépourvu de l'inquiétude de ses voisins et employés. Tout de même résolue à l'idée de faire son chemin un milieu du monde des hommes, elle se trouve à se faire courtiser par trois prétendants. Pourtant, a-t-elle réellement besoin d'un homme dans sa vie? Cette histoire intemporelle, située au coeur de l'Angleterre rurale en 1874, vient nous rejoindre par ses thèmes universels d'amour, de trahison, de jalousie et de mensonge.
---
Costume Design: Melanie Michaud
Music Composition: Christa Emmerson
Stage Manager: Dayna Kilbourne
Rialto
Wednesday-Sunday 8pm
Tuesday-Friday 12:30pm
Saturday & Sunday 2pm
Victoria Hall
Friday & Saturday 8pm
Saturday October 29, 7pm Benefit performance $65,
Wine and Cheese, $30 tax receipt.
Sunday 1:30pm
Adults $25 / Students $14 / Groups $20
Produced by Persephone Productions
---
Théâtre Rialto
5723 Du Parc
Box office (514) 770-7773
Victoria Hall
4626 Sherbrooke Ouest
Box office (514) 486-7423
______________________________________
Critique
Critique
à venir
..