Les 4, 8, 9 et 13 août (en français) et du 7 et 12 août (en anglais) à 20 h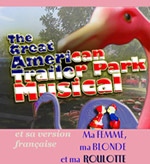 Ma femme, ma blonde et ma roulotte / The Great American Trailer Park Musical
Texte de Betsy Kelso et David Nehls
Mise en scène de Stephen Pietrantoni
Avec : Monik Vincent, Lisa Forget, Pierre Lenoir, Cecile Cristobal, Stephanie Lessard, Tina Mancini, Jérome Roy
Ce spectacle propose un regard plein de drôlerie sur une journée typique dans un parc à roulottes de Floride.
It's just another typical day at a trailer park in Florida: UFO sightings, big storms, hysterical pregnancies and the unexpected arrival of an exotic dancer from out of town. Meet the local residents and have a hearty laugh with the hilarious characters who live at Armadillo Acres.
Producer/Director -- Stephen Pietrantoni
Choreographer -- Lorna Wayne
Set Designer - Genia De Marco
Lighting Designer -- Dan Lavoie
Musical Director : Maxime Bégin
Billet : 25$
The Next Wave Festival of New Musicals
Centre éducatif pour le théâtre à Montréal (CETM)
Espace Libre
1945, rue Fullum
Billetterie : 514-504-9339
______________________________________
Critique
Critique
à venir
..