On select Saturday mornings throughout the season, young children and their families enjoy affordable and engaging live performances by some of Montreal's best talent for kids.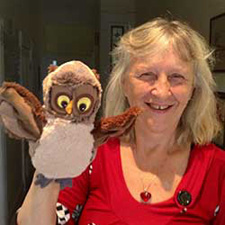 Samedi 19 octobre 2013, 10h30
It's a Great Big World Beatrice
Isabel Belina
Ages: 2 - 7
Isabel Belina "engages" her young audience in conversations about the world around them, helps them to use their imagination, and "fascinates" them with the variety of simple props that make her songs come alive! Isabel Belina has been a prolific songwriter and seasoned vocal performer for over 30 years. Her newest project is to perform songs from her latest cd, songs written for children, songs written in 2010 for her granddaughter Beatrice.
---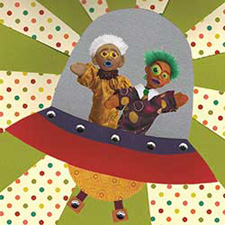 Samedi 26 octobre 2013, 10h30
Bizarre Bazaar
Panadream Theatre
Ages: 2 - 10
Bizarre Bazaar is an interactive and comedic play with string marionettes. This lively and action-packed cabaret features electrifying acts including break dancing cowboys, a fire breathing dragon and a space alien named Ricky. Set to a dynamic soundtrack, this colourful and wacky show guarantees to keep audiences smiling and engaged! Every presentation is unique and magical, and filled with jaw dropping surprises and poetic moments.
---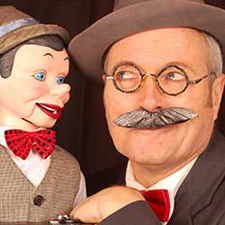 Samedi, 9 novembre 2013, 10h30
Pinocchio's Puppet Pranksters
Smile Company Inc.
Ages: 5 -105
Bang, zing, zzzaw the puppet factory is in full swing pumping out puppets at high speed. The around the clock assembly line production is getting Gepetto down. It all seems to have really gotten out of hand; he's come a long way from his humble workshop abode. Gepetto thinks to himself, happiness cannot be measured in dollars and cents. With Pinocchio's inspiration and assistance he decides to build a show of new, funny, strange and absurd puppets. "Pinocchio's Puppet Pranksters" a cavalcade of ventriloquism, puppetry, clown, song, dance, mime and humanette (half human/half puppet).
---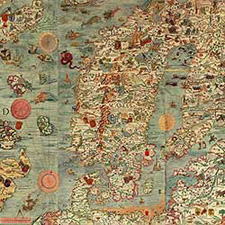 Samedi, 16 novembre 2013, 10h30
The Enchanted Atlas
Théâtre de la Source
Ages: 3 - 10
Two young witches are just about to pass their final exam to obtain their witchcraft certificate but they have to revise geography and history! Discover how Ganaelle tried to make a beauty potion for her ugly son, how Vassilissa got fire from the terrible witch Baba Yaga and how a young boy tricked a powerful Inuit shaman. Help them get ready for their final test!
---
Tickets available by calling 514-288-3161
Ticket Prices: Adults: $8.00 Children: $6.00
Limited Seating Available
A Centaur Presentation

---
..